4 Weeks Salsa & Bachata Intensive Course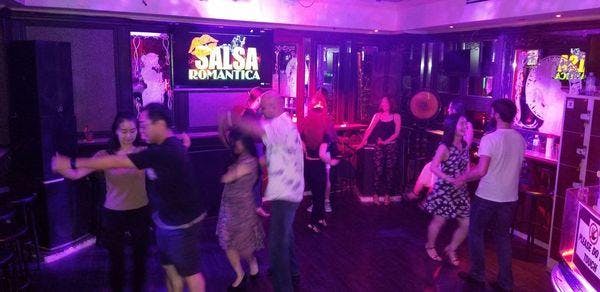 Image from eventbrite.com
---
Meetup page: https://www.meetup.com/tokyo-salsa-lessons/events/calendar
4WEEK INTENSIVE Course
Special bachata lesson for all... Learn bachata from japan salsa congress 2014 bachata champion...
There will be 3 Lessons each week rotating between the following styles Salsa Lesson, beginner, Salsa intermediate and either Bachata Lesson, Merengue Lesson, Reggaeton Lesson the Basic Schedule is described below!
TIMETABLE :
4:00pm – 7:00pm
4:00– 4:45pm : Salsa instruction Beginner Lesson
5:15 – 6:00 pm : Salsa instruction Intermediate lesson
6:30pm– 7:00pm : Freestyle Dance / Instructor Observation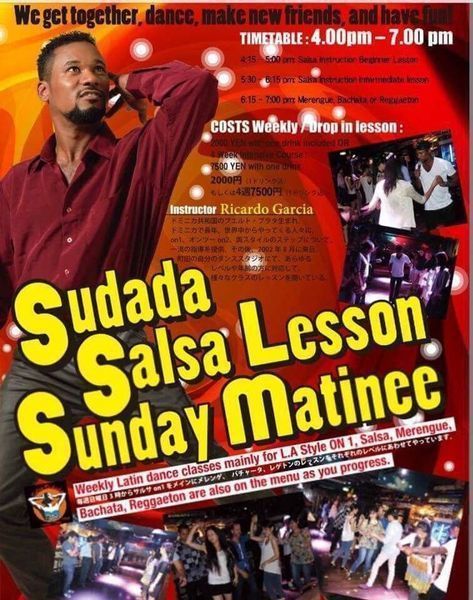 6:30 pm– 7:00 pm : 1st week, Bachata Beginner/Improver class
6:30 – 7:00pm : Freestyle dance / Instructor observation l Freestyle dancing (preferably AFTER the first and second lessons each week )
Freestyle dancing & practice will be taking place after each lesson Ricardo the instructor during this time will observe , review and adjust your movements, help with steps, spins and correct positioning.
"Your resolution"learn how to master your Latin dance skills...
Join our 4 week intensive course, salsa,merengue,bachata and regaeton.
I will teach you in the most fun and easier way to learn how to dance salsa and the same time meet up new wonderful people. I can't wait to meet up with all of you. Make the new year resolution new hobby "salsa".
INTERMEDIATE lesson directly after the Basic lesson
This is for all members who already have an understanding for the basic steps but are ready to move onto some more advanced moves .
**********************************************************
Tokyo Salsa Meetup is excited to continue to present our new 4 week intensive Salsa Dance classes starting Every month Come and experience a Salsa Dance lesson every Sunday from our Professional Instructor Ricardo Garcia Pls note : This is a professional instruction lesson and practice opportunity with the aim to get members to learn the basic steps quickly and efficiently.
Apart from the 4 week intensive course there is also a drop in Salsa lesson where you can come and join anytime and sharpen up your spins and turns or practice with other dancers there are now 2 payment options available COSTS
Weekly Drop in lesson : 2500 YEN...... with one drink included
OR
4 Week Course :8,000 YEN....... with one drink each week lesson is 3hours in duration from 4:00 pm - 7:00pm
**********************************************************
For those new to salsa, please note that the dancing time is free as included in class cost.
Absolute beginners are asked to start on the first class of each month in the 4 week course ; this means the sessions will be progressive to enable faster muscle memory. It is also less repetitive for the class participants and thus ensures more continuity for all. This is one of the best, quickest & enjoyable ways for new dancers to learn. Weekly Latin dance classes mainly for L.A Style ON 1 , Salsa, Merengue, Bachata, Reggaeton are also on the menu as you progress. In other words, all the Latin dances found in a typical salsa club!
Authentic social salsa is fun, informal dancing & nothing like the TV programme which is show dancing. You don't need a partner or dance experience in order to participate.
People with two left feet and/or no sense of rhythm also find it easy!
Come with a smile, be willing to have a go & just enjoy yourself! Also there will be a Dj during the lessons at Salsa Sudada spinning all the latest latin dance tunes ,
How to Access The VENUE :
Roppongi station Exit 3 Take a right and walk towards Tokyo Tower.
When you cross the 2nd traffic light, take a right(do not walk straight pass the red light) just at the building with a big screen. You will see a big sign "FORUM" building. Sudada is on the second floor of this building.
THANK YOU
RICARDO
Contact me: https://www.meetup.com/tokyo-salsa-lessons/members/4603552
or LINE ID ricardovvg
645 Views - 03/08/2020 Last update
music
latin american
courses
New Salsa Sudada
Minato City, 106-0032, Tōkyō-to, Japan
---
Are you an event organizer?
Create events for free. They will be immediately recommended to interested users.
Create event
Nearby hotels and apartments
Minato City, 106-0032, Tōkyō-to, Japan
---
---
New Salsa Sudada
Minato City, 106-0032, Tōkyō-to, Japan
Event from
eventbrite.com
---
---
Are you an event organizer?
Create events for free. They will be immediately recommended to interested users.
Create event
Tokyo

›